Curious to know what windows styles are out there? Here at Elite Windows, we thought we show you some of the most popular and modern window types we supply.
What window styles can I buy for my home?
Different styles of Liniar windows​
One of the most popular choices and it's easy to see why! Casement windows offer total versatility, perfect for both traditional and modern homes. This British window style allows maximum light into your room, with slim sight lights for the most considerable amount of light. Your home is bound to feel spacious and airy. Often chosen for its practicality, reliability and efficiency, you will reap multiple benefits, such as improved security and reduced energy bills.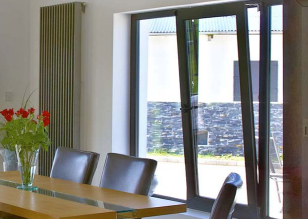 Do you like to have your windows open to let the fresh air in, but have concerns over security? Have you ever considered Tilt and Turn windows?
Ideal for maximum air ventilation, you keep your room nice and cool during those summer months. But, thanks to advanced technology, you can also be guaranteed a warm and cosy space in the summer months. Their energy efficient material will help you and your household remain warm but your heating bills low. If you're looking for a modern touch with enhanced security and energy efficiency – the Tilt & Turn window is perfect for you.
Want the look a traditional timber window frame with the advantages of PVCu? Flush Sash windows are a new development offering the realism of tradition with 21st-century benefits. Fitted flush into the frame, the window style can suit any home and without fail will look like a genuine timber window.
Sash Horn windows add a sense of tradition to properties. If your existing windows are Georgian or Victorian-style sashes and would like to re-create that look without breaking the bank – the perfect solution is Sash Horn. With high weather resistance properties and security, the Sash Horn looks precisely like a traditional sliding sash, but with features of a casement. Giving you the best of both worlds!
For a large window that will flood light into your room; choose a Bow or Bay window. Both offer the versatility of creating an illusion of space and depth to a room. If you're looking to add space without the hassle and cost of additional building work, this window is ideal.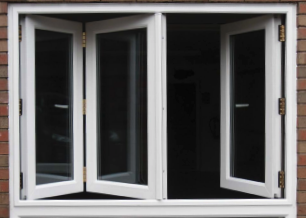 Popular for use in glazed extensions such as conservatories and orangeries, Bi-folding windows enable you to fully open one side of the room while still retaining valuable wall space. Bi-folds offer maximum natural light and brighten your room. Whether you live in the picturesque countryside or the heart of the city, bi-fold windows will provide dazzling views.
Also ideal for the commercial sector, Bi-folding windows can transform a café or restaurant during the summer months, providing your establishment with an open, outdoor feel.
It's ultra-slim sightline open up your home to more sunlight and provide your home with a stylish, sleek finish. This window style complements both modern and traditional homes for a clean, contemporary finish.
Have you ever experienced difficulty cleaning your windows? Wish there could be an easier way? Well, the Pivot window is perfect! With a 180, fully rotating pane, your window will be more comfortable than ever to clean. A popular choice for apartments, townhouses and multi-storey buildings, Pivot windows combine practicality with aesthetics to create a cleverly designed window for modern homes.
Bespoke window styles for your home
Regardless of what style you choose, you can make your window bespoke for your home. All available in a range of colours, opening configurations, finishes, glass and hardware – you'll be adding your mark on your home's appearance.
Having followed our guide hopefully, we have provided a clearer picture of the various window styles available today. Whether you are looking to make your home look better, keep your energy bill lower or make your home more secure – here at Elite Windows, can help you find the perfect solution.
7 HOTTEST window styles for your home​


Windows aren't the most thought of home improvement to consider – however they're essential. Not only are the accessories to your home that everyone sees, but they are also essential in keeping your home sustainable.
We often assume that the windows we are provided with do their job, and there's no need to change them, but this isn't always the case! After some time, new window installation should be considered. Although windows primarily allow natural light to reach the inside of your home, they also help maintain internal temperatures. Keeping the warm temperature inside, and cold, nasty draught outside.
But, despite their many functions, windows do provide aesthetic value. They are available in numerous shapes, sizes and finishes to help you create your perfect home.
The question is, what window styles are available? Many of us know PVCu, but surely there is more? Here at Elite Windows, we know of all the different windows, styles, finishes and colours. So, we have compiled all the Liniar windows we provide to help find the right window style for your home.
​